Silversea 2016 World Cruise
By [email protected]
Step aboard Silver Whisper and prepare for a 115-day World Cruise designed to inspire you with delight. For travellers who have the time, this truly special journey is sure to please, exploring 51 ports spread across six continents to discover the world's most astonishing and beautiful places.

Discover lands of wonder or shrouded in mystery on this global circumnavigation. Places like Easter Island with its enigmatic Moai, haunting Petra, and isolated Pitcairn Island, home of theBounty mutineers. With numerous late-night and overnight calls, and even more connections to re-join the ship, you'll have ample time to explore a breathtaking succession of highlights including Ayer's Rock, Angkor Wat, the bejewelled temples of Burma and biblical treasures of the Holy Land. For a fitting finale, our World Odyssey ends in Venice, a proud reflection of our Italian heritage and the inspiration for our own Venetian Society, Silversea's loyalty club.
Complimentary exclusive World Cruise events: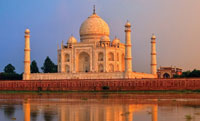 Lunch at the Taj Mahal
Arguably the most romantic of temples built to express love and loss is the beautiful Taj Mahal. Let us jet you off in chartered comfort for just the day. Tour this amazing edifice of white marble and then join us for lunch. Refreshed, we jet back to the waiting Silver Whisper for a special welcome home.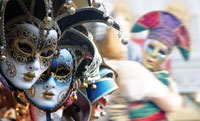 Masked Ball in Venice
We embark our elegant water taxis in the early evening for a journey down the famed Grand Canal, our destination a Palazzo complete with all the trappings of history and regalia this city has to offer. All we ask is that masks and elegant dress are mandatory – leave the rest to us, as we create an unforgettable evening as you approach the twilight of your world cruise.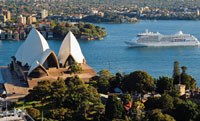 Island in the Harbour
Sydney Harbour has arguably two of the world most iconic structures – the glistening sails of the opera house roof and the famed arch of the mighty bridge. A white glove lunch will be served with a local menu of casual Australian fare and accompanied by wines of the Hunter Valley. Replete with Aussie spirit, return to the Silver Whisper.
Benefits of a FULL Silversea World Cruise
• Business Class Air with private car transfers
• $4,000 onboard spending credit per double-occupancy suite
• Gala Bon Voyage reception, dinner and overnight accommodation the evening of January 4 at the Mandarin Oriental Miami
• Three Exclusive World Cruise Events: Lunch at the Taj Mahal Masked Ball in Venice Island in the Harbor
• Three Silversea Experiences for guests travelling 50+ days: Easter Island Junks of Halong Bay Music in Muscat
• Special commemorative gifts
• Silver Shore Baggage Valet between home and ship in Fort Lauderdale and Venice
• Complimentary laundry service
• Complimentary Internet package
Virtuoso Voyager Club Benefits
Each passenger may select 8 benefit(s) from the list below. Please check with your travel agent, Jen Mitchell, for any restrictions that may apply to the third and fourth passengers in a cabin.
Adelaide Highlights and Historic Carrick Hill - 2015 | Adelaide, Australia | 03 Feb 2015
Discover St. Barts with Lunch at Hotel Le Toiny - 2015 | Gustavia, Saint Barthélemy | 27 Apr 2015
Durban Midlands and Arts with Festive Lunch - 2015 | Durban, South Africa | 01 Apr 2015
Highlights of Columbo and a Festive Lunch - 2015 | Colombo, Sri Lanka | 13 Mar 2015
Highlights of Noumea and Festive Lunch - 2015 | Nouméa, New Caledonia | 26 Jan 2015
Hong Kong Highlights and Festive Lunch - 2015 | Hong Kong, China | 22 Feb 2015
Hue - Discover Vietnamese Royalty and Festive Lunch - 2015 | Chan May, Vietnam | 25 Feb 2015
Tropical Island Sights and Festive Lunch - 2015 | Moorea, French Polynesia | 16 Jan 2015
$150 USD Shipboard Credit


This option is only available if selected and pre-registered by your Virtuoso Travel Advisor at least 46-days prior to the cruise sailing date. Onboard credit applied to your shipboard account. Restrictions Apply. Please see Terms and Conditions for Details of Restrictions.

$175 USD Credit Toward Purchase of Virtuoso Product


This option is only available if selected and pre-registered by your Virtuoso Travel Advisor at least 46-days prior to the cruise sailing date. May be applied by your Virtuoso travel advisor toward the purchase of private shore excursion created by a Virtuoso On Site or another Virtuoso preferred product in conjunction with this cruise.
We've been there.
Find inspiration for your next travel experience.